We're proud to say that we've officially launched today. Thanks to all our friends and family who have helped us along the way.
If this is your first time here, check out What Is OnSugar to learn more!
And drop us a line if you ever have any questions!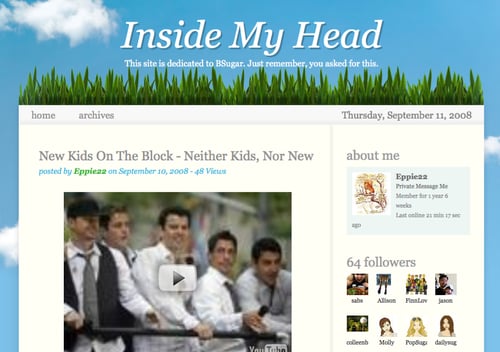 In the early stages of OnSugar, we recruited our gal Eppie22 to test it out for us. To our surprise she ran with it, and has created a truly funny blog. During the long hours of testing and developing, our little ray of sunshine was the email telling us that Eppie had a new post. If you like laughing, and loads of irreverent things, then be sure to check out what's inside Eppie's head. Just don't say I didn't warn you.
Tap.Tap. Is this thing on?
Yes? Oh, okay.
Well hi there, and welcome to the official OnSugar blog. Here's where we'll fill you in on the latest updates — such as new themes or features — provide tips, and showcase some of our favorite sites and inspirations. We may even talk about what we had for breakfast. Of course, feel free to let us know what you had for breakfast too.

If you don't have Beta access already and would like to give OnSugar a spin, leave a note in the comments or send an email to onsugarhelp@sugarinc.com.

TTYL! BFF!
-sabs.